SUBSCRIBE TO OUR NEWSLETTER
PhytoTonic Medicinal Mushrooms


Mushrooms are a powerful ancient life form neither plant nor animal but a Kingdom of their own. They form an interconnected network essential to the health of our planet and have huge potential for helping humans that is still being investigated.


Thai Freeze Dry has, for some time now, been working hard to find the best possible sources for high quality medicinal mushrooms.  Medicinal mushrooms are most often made primarily from the Mycellium – the roots of the mushroom. This material contains varying quantities and qualities of the grain substrate on which it was grown. The grain substrate has very little medicinal value and there is little science on the effectiveness of this type of raw material.  In contrast our mushroom powders are made from 100% fruit bodies which contain the highest therapeutic values.


First-class raw materials follow GAP in all steps from selection of seeds, cultivation, growing and harvesting in cooperation with the Chinese Academy of Sciences, Nanjing Forestry College and Zhejiang University.  Raw materials are tested and approved prior to production in compliance with USDA organic standards. All PhytoTonic medicinal mushroom powders are USDA and EU organically certified. The Medicinal Mushrooms featured by PhytoTonics are all certified as pesticide free (tested for the full range of pesticides according to stringent EU standards.)


This comes from a youthful, forward-thinking and well-capitalized company with highest manufacturing credits and highest levels of food safety including ISO22000.


Thai Freeze Dry, applies the same standard of quality to sourcing organic medicinal whole mushroom and mushroom extract powders as it does in sourcing its own raw materials for processing.  Partnering with the premier organic medicinal mushroom producer in the world, we deliver medicinal mushrooms powders of unequaled quality.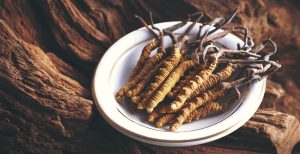 Increases oxygen intake and utilization ,
Increases cellular ATP levels resulting in REAL increase in usable energy in contrast to stimulants that use your stored energy.
Increases sperm production, testosterone, erectile function and libido.
Supports kidney health to assist with fatigue, anemia, hypertension, joint and back pains and avoid critical state kidney disease.
Learn More »